Following the success of our event last weekend, we are offering again this Saturday our children's activities for Halloween. Drop by if you can and Happy Tricks & Treats!
Suivant le succès de notre événement le weekend dernier, nous avons décidé de ré-offrir ce samedi nos activités d'Halloween pour les enfants. Venez nous voir si vous pouvez et Happy Tricks & Treats!
Drop by/Venez nous voir …..  145B Main Street (south of Gerrard), Toronto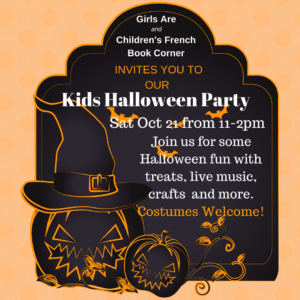 *******************************************
We SOMETIME PARTICIPATE IN BOOK FAIRS. PLEASE CHECK OUR CALENDAR FURTHER BELOW FOR THESE EVENTS AND COME VISIT US!
Nous participons parfois à des festival de livres. Vérifiez notre calendrier NOTEZ CI-BAS pour ces évènements et venez nous voir!
             *******************************************
"Children's French Book Corner"
" Point for details – Cliqué pour les détails"
PRIOR STORE EVENTS:
Read-a-Long in French – August Program
http://www.blogto.com/events/read-a-long-in-french-august-program/
Easter Egg Hunt:   Review by Beach Snapd
March Break Read-a-Long sessions
Grand Opening Celebration:
Grand Opening review by Beach Snapd newspaper